Thursday, June 29, 2006
Morning folks. I had a real long post, started yesterday, made up for today, but it's gone and I don't have the heart to do it all over. At the end of the post I wanted to show these pictures but Blogger would'nt cooperate.
I tried everything, copied to Notepad and tried a new post, shut the computer off, hibernated, nothing worked. I think I know the problem, but no matter, I can talk about things later.
Basically this trip in it's present form is over. I've yet to decide how to proceed, but I'm heading for home, resting up, buying a van conversion, and coming back out.
It will take me a week or so to get home, time for the other stuff, then will probably head for the Yukon. Much more on all that later, but I've done what I set out to do, now with what I've learned about myself, my life will really begin anew.
When the pilots in NFLD deliver their passengers to the terminal, they REALLY deliver. This is from the museum in Gander. I also toured the airstrip there where, I believe, the Concorde used to re-fuel.
I stopped for lunch and was sitting outside on a bench when this guy flew in and said that if I gave him a piece of chicken, he would'nt poop on my car. So I fed him.
Next thing I know his open-mouthed, hungry little buddies showed up. Guess they'd heard of Mary Brown's "work of art".
Finally, how would you like to pay $109 for a room in this barn? Thought so, I did'nt either, but I had no choice. Here we go again, Damn! I'll put it up later.
As for the dorky video, it was too dorky for even my low standards. Plus I think it's my way of previewing that is causing the problems. It was just me going down the road with George Strait in the background.
This post is convoluted, but keep going, I'll try to make some sense of it for you.
Trucker Bob

blogged at 3:40 AM
|
This is the place I was trying to show above. It was late at night and I was beat, or in other words, a captive audience.
What I meant by the trip being over is that the hold the doctors, and Timmy, had on me is broken. Have you noticed that's the first time I've mentioned that fellow? No more take 1 of these, 3 of those, and Don't call me in the morning. So in that regard, every mile driven, dollar spent, and frustration, was worth it.
Now it's time to go home, re-group, and get on with my life. One little problem I'm facing is trying to decide which one of you heifers to get to ride shotgun with me. The pay is no hell, but the benefit "package" is a joy to behold. heh heh heh
Will you please stop that!
Just goofing around folks, helps maintain what little sanity I have.
Will decide in the next few hours whether to stay here another day and rest up a bit, or lay a strip for home. If you don't hear from me for a day or two, it simply means I'm hauling you-know-what.
Trucker Bob

blogged at 3:30 AM
|
Wednesday, June 28, 2006
Hi guys. Just arrived in Amherst, Nova Scotia, safe and sound. I'm too pooped to post (hey, alliteration), but I'll answer your much appreciated comments in a bit.
I'll compose another tour de force (yeah right!), complete with some neat pictures and a dorky video, and I'll have it up for your reading pleasure(?) in the morning.
Been doin' a lot of ponderin', and might be making another corporate. At any rate I'll explain what I'm thinking. For now, I've got some chambermaids to amuse.
Thanks for staying with me.
~~~~~~~~~~~~~~~~~~~~~~~~~~~~~~~~~~~~~~~~~~~~~~~~~
Here's a couple to get you started.
I found these amazing specimens of taxidermy when I stopped for lunch at a Mary Brown's in Deer Falls, NFLD. I've seen lot's of this sort of stuff before, but never anything as good as these. I have more of these, plus some fun pics I made at the same spot.
Don't forget, click/enlarge.
Trucker Bob

blogged at 12:27 PM
|
Tuesday, June 27, 2006
Morning folks. Well, my homelessness did'nt last long, I'm snugly nestled in the Comfort Inn in Gander NFLD. Where? Let me explain. Sheesh!
I had to make a corporate yesterday, and I chose the lesser of two evils. I was so fed up with getting chased around the city, literally, to find a room that I pretty well knew what was going to happen. On a hunch I phoned Marine Atlantic, and the decision was made for me. I had'nt made a reservation on Sunday because of the uncertainty about finding a room and was told Thursday's sailing was full, and if I wanted to sail Saturday I had to reserve and pay by credit card now. Bingo! Decision made.
I'm on my way back to Port-aux-Basques, where I'll catch the last ferry tonight and be in Nova Scotia first thing tomorrow morning. Hopefully.
It might seem a bummer, but I am fine with it. I reached my destination, took pics and a dorky video, and that's what it was all about. It would have been nice to stay longer, but that's just window dressing. Fact is I was not impressed with St. John's. The ordinary people I met were great, but the people I was dealing with had attitude, and I DON"T do attitude.
As for all the driving, remember, driving is what I'm all about. Give me a good vehicle, an open road, and I've found freedom. To have you guys along makes it even more so. Freedom to share.
I'll talk more later about what the trip meant to me, but for now here's some pictures. This is the start of the 25 minute drive up to Cape Spear.
A small part of the drive up.
Little breezy on top.
The one picture I really wanted to show won't load. It is of the centuries old lighthouse that I climbed up to and took the dorky video from. I'll put it up on another post, along with some others.
By the time I made it up there I had 5648 miles on the car. The trip home will be shorter because I won't be doing the Las Vegas swing, but still that's a lot of miles in 15 days. No wonder L'il Bear is asleep all the time, I've got him worn out.
I stopped at the Albatross Hotel here in Gander, and the boys were wondering how Dudette is doing since she took her act on the road. I did'nt have the heart to tell them that she has become "domesticated". heh heh heh
I did have a few things I was going to do on the way back, but they now seem anti-climactic in a way, so I'm not real sure how I'm going to proceed. Might get stupid and go head-down, ass-up, or I might dawdle. I know I'm getting tired of motels, for a lot of reasons.
Oh, just about forgot. I had some of Mary Brown's chicken for dinner last night. Her leg was okay, but her breast was a thing of beauty. (I think it's time I went home.)
Trucker Bob

blogged at 2:38 AM
|
This is the lighthouse I climbed up to and stood beside to take the video. Silly ol' fart, almost needed a crane to get me down, but it was important to me to do it.
I took this from inside an old WW11 gun battery in the side of the hill.
Another shot of the drive up. If you click/enlarge, you can see the lighthouse in the mural that I climbed to.
Trucker Bob

blogged at 2:30 AM
|
Monday, June 26, 2006
Morning folks. The weather finally lifted a bit yesterday, and even though I only drove a short distance, I ended up working my tight little butt off. (Give me a break!)
A lot of things in life depend on timing, and my timing in arriving here bit the big one. I think I put more miles on the car trying to find a room than I did getting here. Whoulda thunk that in St. John's NL there would be so many conventions.
I figured I'd drive the short distance to St. John's, check in, and then head for Cape Spear and make a dorky video. So much for the best laid plans of mice and men. By the time I finally found a room ($159 + 15% tax) my butt was on the ground, and I was only able to get it for one night.
So today the first order of business is to find a room for 3 days, because the soonest I can get a ferry off this rockpile is Thursday. Then hopefully I can do some sightseeing, and dorkying. Other than that little blip, everything is going well. Enjoying the people, eating like a ***, and even having the odd "cold one".
Went out last night and had a great time. Met some locals that took me in tow, and we proceeded to paint the town red, or as much as I could before I finally cried "Uncle". Damn, these folk can party hearty, or as they call it, "Stompin'.
Now for some really good news, something that should ensure my longevity. Since I'm in an area that is 4 1/2 hours ahead of my time zone, and also since I normally only sleep 4 hours a day, that means I can go to bed today, and wake up yesterday. Think of it, if I do that long enough, Ol' Studley will ride again! heh heh heh. I hope you can tell that bad weather, and #$% rooms, are not dampening my spirit.
Oh, and Lexy, guess what was on the menu where I stayed Saturday night. Hmm, wonder why I stopped there.
I think I've spent more on lobster in the last week or so than I've spent on groceries in the last year. Said with a grin on my face and a purr in my voice. I sure hope I don't break down on the way home and have to eat the canned lobster I bought for Boop. WON"T HAPPEN! Who knows, when I show up with these cans I might get lucky.
This is the first time since I left that I wish I had an RV, because frankly it's getting tiresome, and expensive, having finding a room the major chore of each day. Especially so today, because if I can't find one I'll be sleeping in the car. But when you realize that the sales tax alone, on the motor-home I was going to buy, would have been more than I'll spend on rooms, it makes it a bit more palatable. Not to mention the fuel one of those guzzlers would have used.
Whoa, I just did some cipherin'. 3 more days at this room rate, if I could get it, plus the ferry on Thursday, comes to $908.05. Looks like I'll be picking cans and bottles out of the ditch on the way home to pay for gas. Maybe I could get someone back here to adopt me, hmm, that one chambermaid was kind of cute. heh heh heh
Okay Bucko, that's enough whinin'. Fact is everything's fine. I've got a line on a room down by the harbor, with internet access, that positions me to be able to sightsee without a lot of driving around. Wish me luck, I'll know by 10 am, local time.
~~~~~~~~~~~~~~~~~~~~~~~~~~~~~~~~~~~~~~~~
Update: 8 am local
Big trouble in River City. NO ROOM! I am officially homeless. Am going to go to Cape Spear regardless, do my thing there, but beyond that I don't know what I'll be doing. I simply can't face driving back to Port-aux-Basques, where I can catch the same ferry I came on, but......? See you when I can.
Trucker Bob

blogged at 3:08 AM
|
Sunday, June 25, 2006
Morning folks. As you can see, you-know-who up there has dropped in for his weekly "aww, is'nt he cute". One of these days I'm going to kick his lazy heinie to the curb. NOT!
Things have been going so well lately, especially since I hit the Maritimes, I was due for a trying day, and boy did I have one.
After posting yesterday I checked the weather and saw that they were calling for high winds and an inch of rain, so I high-tailed it out of there. Damn, they should have said an inch an hour because it was just like a cow peeing on a flat rock. Then the thickest fog I've seen in a while rolled in and I knew that I had my hands full. The locals told me that when these Atlantic storms come in they do so with a vengeance.
Fought my way to Grand Falls, where I found 2 motels. One I would'nt have accepted a complimentary room in, the other asked $129 + 15% tax. This from a place where the dining room/restaurant was closed, the lounge was closed, the old clerk looked like something out of an Alfred Hitchcock movie, and the nearest anything was 3 miles away. I actually looked around for the cameras, because I was sure I was in a scene from the Twilight Zone. doo doo doo doo.
Pushed on to Gander, where I was told there was lot's of motels. There was, there was also about a gazillion bikers having their annual whatever. Available rooms: 0 to the tenth power. Back on the road.
A short distance later I did find a nice place, with a friendly owner, but alas, no internet access. Since I have a flock to tend, you got 'er, back on the road.
14 long hard hours later, and 437 miles, I arrived here in Clarenville, where I'm in a nice spot. The good thing is I got 'er done. The gooder thing is I'm less than 2 hours from my destination, Cape Spear. YEE *** HAW!
I did'nt get a chance to shoot a dorky video, or take any pictures, because of the weather. When I finally did run out of the real bad stuff I was so cross-eyed from staring into that fog, all I was looking for was to get off the road.
Darn it Jude, I can't find the brochure with the specs on the ferry, but if you go
here
you'll be able to read about it. Also there is a map of the routes. I went from North Sydney to Port aux Basques, drive to St. John's, then I'll go down to Argentia (AR-JEN-SHA) and take the 16 hour ferry back to North Sydney. On that one I'll get a cabin.
Blogger is messing with me again. I've been trying to post a picture or two from the past couple of days with no luck, so I guess that's it for today. Take care.
Hang on a minute, I'll try the same as I did the other day. Make another post, mess with the time, and hopefully it will come in after this one, because I hate giving up. Truth is it's 5 am here, 12:30 am my time, so I just picked the middle.
Trucker Bob

blogged at 2:45 AM
|
Finally! This ferry is smaller than the one I was on. I was told that this one sank in 250 feet of water. Comforting thought before my next sailing.
Say what you will about me, but I'm never late.
One hour later.
The 2 guys, from Nova Scotia, in that little car behind mine were an absolute hoot! I could have talked to them for hours. These were at the PEI ferry.
Trucker Bob

blogged at 2:30 AM
|
Saturday, June 24, 2006
Morning folks. Well, what a day that was! Up early (d'uh), checked out of the motel, went to the ferry dock and purchased my passage, then went downtown for breakfast and a little walkaround. What a great, and busy, little town. There must be something in the water in the Maritimes, because everyone is so friendly and helpful.
Did my tour of town and decided to check in at the ferry, get assigned a lane, and just walk around and visit with the folk. Turned out to be a good idea, because I had fun conversations with people from all over North America.
Most were pople like myself, going to Newfoundland for vacation. Not a cross word was heard, nor a frown seen. People in RV's, cars, motorcycles, foot passengers, whatever, we were all there because we wanted to go to that special place that is Newfie-land.
The sailing was delayed a bit, but no one cared, just more time for visiting. We finally boarded the MV Caribou, which happens to be the largest in it's Ice class in the North Atlantic. That means that this ship is equipped to handle the ice it encounters during the winter seaon, including ice-bergs, in other words, an ice-breaker.
The nose of the ship, seen below being raised for boarding, when lowered becomes the ice-breaker.
Whereas the day before I got to see the engines on the much smaller ferry from PEI, yesterday I came this close to being taken up to the bridge. I was beside myself with excitement, but about half-way across we hit fog, so that was out. DARN!
Guess what this is. Yep, a lobster boat coming in with what looks like full holds.
Out of order, but here is a shot of one of the local churchs. Does that not speak to the type of life in this wonderful ocean-side village?
There's a chain of Chicken 'n Tater restaurants in Newfoundland called Mary Brown's. They say she has the best looking legs in town, and they stay open till two. I had a picture to go with that but it won't load.
And now for the dorky video of the day.
And because you've been good lately, here's another one. The lighting on this one is horrendous, but I wanted you to hear the Celtic (hard C) music being played in the lounge on board the ferry. This is the type of music popular in this area.
The sailing itself went well, had a nice lunch, did lot's of walking around the ship, and of course, visiting.
Arrived in Port-Aux-Basques, checked into the room I had reserved by phone from North Sydney, and marvelled at the wonderful day it had been.
The weather here this morning is cool, damp, and foggy, but I don't care, because I'M HERE!! With the 4 1/2 hour time difference I'm a little confused, but that's a familiar feeling. heh heh
Will probably drive to Grand Falls today, which is about half-way to St. John's and Cape Spear. I'm sure the weather will lift, because I've got some dorky videos and pictures to take.
Take care guys, and I'll see ya later.
Trucker Bob

blogged at 2:30 AM
|
Friday, June 23, 2006
Morning folks. I say that out of habit, because I'm starting this yesterday. Huh? You know what I mean, don't try to get cute with me! I hope you can sense that I'm in a good mood, because frankly I could'nt be any other way.
The drive to North Sydney today, to use a five-dollar word, was idyllic. I'd almost forgotten how beautiful this part of the country is, and don't get me started on the people. Guys like this for example, who when I asked, said, "sure bye(boy), I'll show you the engines". Having spent my life around engines, you'll never know the treat it was to go below decks and see the massive engines on the ferry. Here is my new "bud", and just one side of two V-16 monsters. I was in hog heaven!
The ferry ride was perfect. I was the first car on, and first car off. It was almost like "Welcome back Bob, where ya been bye?"
The rest of the day was spent driving through scenes like this. I can only hope these pictures show just a part of the beauty of this wonderful place.
I took 36 pictures, and obviously can't put them all up, but you get the idea. You know, the first part of the trip I simply had to put those miles in, for a number of reasons. But now that I'm here, I'm determined to show, and tell, you, of a simply wonderful part of our great country.
And now for the dorky video of the day.
I've just previewed that, and realize I've got to get better at it. The problem is my little camera is limited as to distance/focus, but leave it with me, because one way or another, I'll do a decent job.
I've been trying to post a couple more pictures but Blogger is being Blogger. Think when I get home I'm going to try another way. I know it's free, but damnit, charge me what you will, but quit this nonsense.
Not sure about today. Might hang around here and take the last ferry of the day that will put me in(on) Newfoundland first thing tomorrow morning (6 hour sailing). Then it's 560 miles to St. John's, where I'll stay for a while. Cape Spear is not far from there.
~~~~~~~~~~~~~~~~~~~~~~~~~~~~~~~~~~~~~~~~~~~~~~~
Just booked passage on the 12:30 pm sailing, which will put me over there this evening. Not sure about accomodation at that end, could be a long night of driving.
I'll see you with, hopefully, a dorky video and some pictures soon.
Trucker Bob

blogged at 3:40 AM
|
For the last **** time I'm going to try to put some more pictures up. I've messed with the time, so hopefully this will come in after the main post. If not, that noise you hear will be my laptop whizzing through the air.
First I wanted to show you the PEI version of "fast-food". YUM!
This is my ferry raising the nose in preparation for boarding.
Finally, a little "diversion" for the trip across.
Trucker Bob

blogged at 3:30 AM
|
Thursday, June 22, 2006
Morning folks. Here are some pictures, in no particular order, that I took yesterday morning. I guess my threatening to get into some industrial-strength cussin' worked, because Blogger cooperated today. Even managed to get the video up.
This first one of the hot-rod boat caught my eye, and I thought you might enjoy dreaming of hitting the open water in it.
This next one, and the one below, will be leaving in 2 days for a sail across the Atlantic. I talked to one of the fellows that helped put the mast up on the one in the water, and he was telling me of all the ports-of-call they'll be making. It reminded me that just as I enjoy the open road, there are those who enjoy the open sea. Different strokes for different folks, and that's what it's all about in the final analysis.
This last one was dinner last evening. There is a market across the street from the motel, and when the owner asked if I was having dinner in the dining room, and I replied yes, he told me to go over and pick my dinner out of the tank. How damn cool is that?
I went over, told the store owner why I was there, and that's his hand holding my dinner up for inspection.
Now for some mind-blowing stuff. The store owner not only remembers the Trooper concert, he was there. He also remembers me being introduced, by the band, on stage, and says I have'nt changed that much. I think I love him! heh heh heh
Now for the dorky video. It was quite windy when I took it, so there is quite a bit of noise. Also I'm disappointed in the focus, but you'll get what I was trying to show.
This morning I'm off to Charlottetown, then down to Wood Islands to catch the ferry to Caribou, Nova Scotia. From there I'll drive to North Sydney, and stay for a day or two.
Hope you're all doing well, and I'll probably see you tomorrow with a dorky video from the ferry.
~~~~~~~~~~~~~~~~~~~~~~~~~~~~~~~~~~~~~~~~~~~~~~~~~~~~~~~
Hi guys. Just arrived in North Sydney, and am checked in to the Best Western. What an absolutely beautiful drive today. Took 36 pictures and 2 dorkies, although I think I messed up the videos. I'll sort things out, and either see ya later today, or for sure in the morning.
It's beautiful here. Wish you were! heh heh heh
Trucker Bob

blogged at 3:04 AM
|
Wednesday, June 21, 2006
Morning folks. Well, it was bound to happen eventually. I'm in love. Yep, got the warm fuzzies.
The last time that I was in this beautiful little sea-side town was in 1978. I was hauling the band equipment for a group called Trooper (remember Jude?). I fell in love with this place back then and it all came back to me yesterday.
The people here are so warm and friendly, that when I mentioned that to them it was like I was a long-lost relative. It's been a long time since I was made to feel so welcome. Everywhere I went it was the same. Yep, got the warm fuzzies.
Even the owner of the motel, when he found out about my love for this place, upgraded my room to a suite. Where else on this planet would you be treated like that? When I was going out to my car for another tour, the chamber-maids were just getting off work for the day. "See you tomorrow Bob, have a nice night". Yep, got the warm fuzzies.
Never did find anyone to check my camera out, but somehow I managed to correct the problem. We have sound. Trouble is, out of frustration, I deleted the 2 videos because the tag would'nt copy/paste properly. Also Blogger has been giving me fits, but I think I have that figured out. It seems that once you post something out of Photobucket, every other image has to go through there. That's why the pictures are a mile wide. It's a learning experience, I'll figure it out.
It's better for you guys anyway. Instead of my dorky video, I found you a site that shows the
Confederation Bridge
much better. Be sure to check out the web cam, and of course the rest of the site. One funny thing, you don't pay the toll ($40.50) coming onto the island, just when you leave.
I did'nt change plans to get out of the toll, but when I leave here I'm going to the other end of the Island and take the ferry to Caribou, Nova Scotia. The fare is a little higher than the toll, but will save a lot of miles.
From there I'll drive to North Sydney, Nova Scotia, and take the ferry to Newfoundland. But first I'll spend some time there.
I'm going to take a bunch of pictures this morning and hope that Blogger quits messing with me. It's funny, I had no trouble posting pictures at home, but now when I really have some good ones, this crapola happens. As I said, I'll finger it out.
Well, that should be enough about me, how the hell are you guys doing? Any of you heifers needin' a little Studley love? Hope not, because you'll have to line up behind the chamber-maids.
In your dreams, you ol' fool!
Wish me luck with the pics/videos, and take care of yourselves.
I've managed to re-capture one of the dorky videos. Sorry about the sound, but hopefully I've got that solved.
This shows a bit of the first place you come to after crossing Northumberland Strait on the 8 mile long bridge. It's called Gateway Village, and is basically a big Welcome spot.
Hot damn! I even managed to fix the sound. Wait, who's at the door? Oh, it's Bill Gates. Sorry you little runt, I'm busy talking to the folk. heh heh heh
Trucker Bob

blogged at 2:06 AM
|
Tuesday, June 20, 2006
Morning folks. Just as I knew would happen, I had a wonderful time last night. The weather cooled a bit so I went back out exploring. Found a bowling alley and thought, why not? Rented a pair of shoes (ugh), bowled a couple of games, and did'nt do that badly considering how long it had been since I last bowled.
During that time I made friends (acquaintances) of the two couples in the next lanes. We finished our games, and they invited me along to a neighbourhood pub where the fun started.
We had a few cold ones, we played darts, we karaoked, we danced, damn I had a great time. You can sense when you're with genuine people, and boy these folks were that. Takes a bit to loosen me up, but boy was I loose when I was doing On The Road Again. Missed every second line and could'nt have cared less! Even got to telling a few jokes.
We ended up the evening at a Bonanza Steak House where I tried to treat them, but they would have none of that. In fact I had to insist on at least paying for my own.
There will be many more evenings like that, because remember, I know these people and they are the best. As a matter of fact Boop is from this area. Nuff said!
Speaking of Boop, I talk to her every couple of days, and all is well. Her sister Marg is coming along, and I've seen to it that Boop has some help in caring for her.
Today will be a very short drive. I plan to stay in Summerside PEI tonight, tour the Island a bit, then off to Nova Scotia. Oh yeah, and eat lobster, lot's of lobster!
I should hit Cape Spear Thursday or Friday. From that point on I have no schedule, because I will have done what I set out to do. It might take me 2 weeks to get home, or it might take me 6 weeks. It does'nt really matter.
I'll try to take a dorky video as I'm crossing the Confederation Bridge to PEI this morning, if not, certainly some pictures.
Thanks for coming along on this trip with me, now give me a hand to clean this room up, because we're going truckin'.
~~~~~~~~~~~~~~~~~~~~~~~~~~~~~~~~~~~~~~~~
Udate 2 pm local time
I've got to stop pounding on myself. heh heh I drove 102 miles today and it took me 5 hours. Every rose along the trail has been duly smelled (smelt). I've just checked into a great motel here in Summerside for 2 days.
Guess what's on the menu for dinner in the dining room? Damn, you're smart, how did you know that? wink wink

Big Dave warned me of a bird flu scare here, but alas, too late. Hey, I've got it, Lexy likes birds, I'll bring them back to Ottawa for her.


I've taken lot's of pictures that I'll sort and post. I took 2 dorky videos, but there's no sound. I'll take my camera downtown and see if I've somehow messed it up. MOI?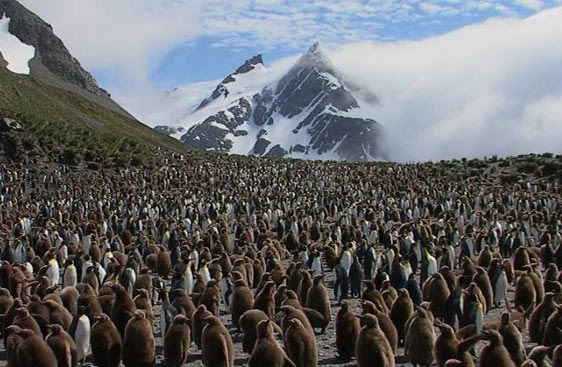 You want penquins Lexy, you got penquins!
~~~~~~~~~~~~~~~~~~~~~~~~~~~~~~~~~~~~~~~
Update numero dos
I messed up folks. This is what I had planned for dinner tonight here at the motel.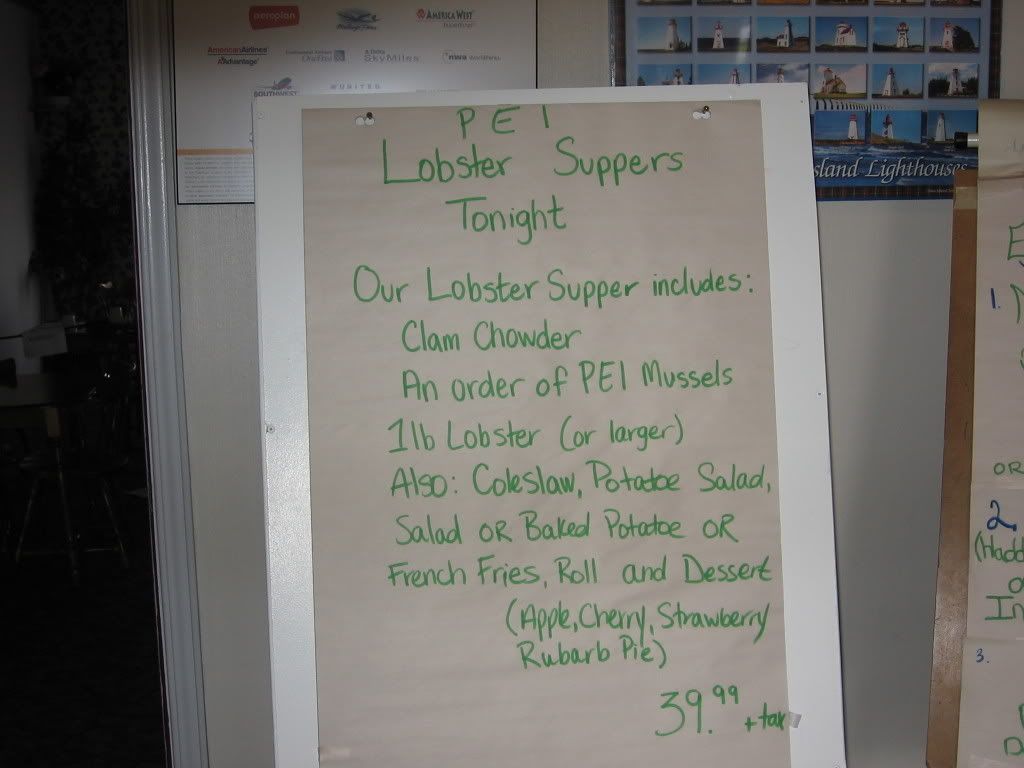 But with all the chasing around trying to get my camera checked out, and doing some sight-seeing, I got hungry. Had an order of fish (haddock) and chips along the shore here that was so big, and good, that I'm just about high-centered. So I guess it's tomorrow's dinner.
Trucker Bob

blogged at 2:09 AM
|
Monday, June 19, 2006
Morning folks. As the old song says, what a difference a day makes. After my day in Cobourg "with" Carole, and my own re-affirmation at the scales, I felt a new beginning.
I actually slept 7 hours Saturday night, which was unusual for me, but a sign that all the pent-up emotions were gone. Up early, which is usual, got back up on the 401 and hauled you-know-what.
I drove along thinking how blessed I am. Not a great upbringing, 5 years in the Army, when I should have been allowed to be a normal teen-ager, married too young, 3 sons too fast, and yet with those "strikes" against me, look at me now.
Loving family, all doing well, all the friends that I can be a proper friend to, and complete freedom.
Freedom to do anything thing I want, even stupid things like driving 932 miles to Moncton, New Brunswick, where I have just checked in to a motel. And it felt great!
Some will say what the heck kind of vacation is that, well, let me tell you. It was the kind I needed. Chase the demons out and go back to being Trucker Bob. It was/is so important to me to prove to myself that I am truly back.
Fact is I could go for hundreds more, but I proved my point. Out on the road is where I'm, if not happy, content.
This video will show you how I was feeling.
I'm going to do the tourist bit here today, then tomorrow morning I'm off to Prince Edward Island to do some serious damage to the lobster industry. I've been told they're right in season, so pass me a bib, lot's of butter, and stand back, this could get messy!
Got some pictures I'll either put up later as an update, or I'll do it tommorow.
~~~~~~~~~~~~~~~~~~~~~~~~~~~~~~~~~~~~~~~~~~~~~~~
Just got back from a walkabout that, because it is so hot and humid here, was not that enjoyable. Did meet and chat with some typical Maritime people, just good, fun-lovin', folk. Hopefully the weather will improve, because I plan to do lot's of visiting with the people of all four provinces.
The other day Lexy had great sport while teasing about reaching out and "grabbing" me while I was alone in a motel room in Cobourg. It caused me such anguish that I was forced to make a decision. Should I take this exit and visit her
Or go to the next exit and spend some time with a real friend.
With her pointing out today that she has her own source of lobster delivery, it looks like I made the right choice.
GOTCHYA!
Don't know why that first picture is so big. By the time I get the hang of all this I'll be as old as Hoss. NAH!
Trucker Bob

blogged at 6:26 AM
|
Sunday, June 18, 2006
Morning folks. Being Sunday, L'il Bear wanted to pop in and say Hi. Since I only drove 2 hours yesterday he's settled back in to some serious snoozin'.
Arrived here in Cobourg at 9 am local time (6 am my time) and went right to the lake shore (Lake Ontario). Sat down there alone for a while and "talked" to Carole. Walked around for a bit, took a video and some pictures, and decided to stay here for the day. Checked into another Best Western, and believe it or not, had a nap.
Woke up, had lunch, and since I could'nt find anyone to play with, took my "baby" downtown, hand washed and waxed it, including vinyl treatment on the roof, vacuumed, leather treated the seats, picked up some cold ones, and came back to the room. I TOLD you I needed to find a friend!
Had 1 cold one, some boozer I am, and went exploring. Found the house we lived in but since no one was home, and a lot of people seemed to be interested in the stranger, I did'nt take a picture. No biggie, it's just a house.
Parked the car and walked around downtown for an hour or so. In a lot of ways, not much had changed, which I found comforting.
It was actually quite hot and humid here yesterday, so by the time I got that little bit done I picked up some health food, a pizza, came back to the room, hung the "friend needed" sign on the door, and called it a day.
I did get one taker, but he was'nt my type. Oh well, there will be lot's of pier dears down in Newfie-land. Stay where you're at dear, I'll come where you're to.
Here is the video. Excuse the emotion.
This picture of a little 2 year old girl brought home to me that just as one life has ended, another is just beginning. I spoke to the litle one's mother before I took that, and explained what I was doing.
I remember this tree in the park by the lake where I took these.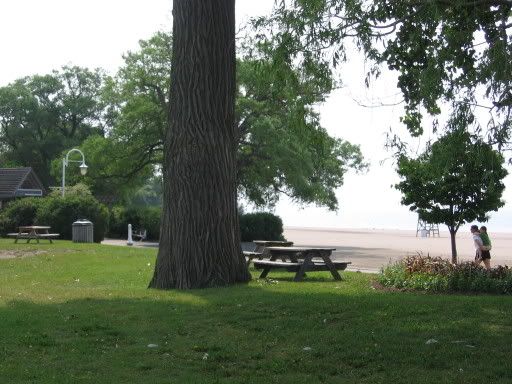 Finally, here is what my "baby" looks like after 3700 miles and a little TLC.
Not sure how far I'll go today, going to just let whatever happens, happen. From here to to the Maritimes does'nt hold much interest for me, especially Quebec, so I might give 'er a lickin'.
Take care of each other folks, because life is fleeting. After yesterday I am so thankful that I seem to have been given another kick at the can.
Trucker Bob

blogged at 2:12 AM
|
Saturday, June 17, 2006
Morning folks. Well, I got my laundry done before I left KZOO, but frankly I think this whole laundry thing is over-blown. I mean, when your clothes are clean they won't stick to you, and you lose that close bond you had with them.
I have seriously got to find a friend!
heh heh
The drive up to Port Huron went well, in fact I even stopped twice. Once to gas, and once to grab a big 'ol Wendy's Double. Lettuce, tomato, onion. No cheese. There is going to be a LOT more stopping from now on, as you'll learn below.
First, here is the obligatory dorky video of the day:
Here is a still of the same site. Very busy southbound, not so northbound.
Rolled up to Canada Customs, answered 2 inane questions, and off I went. Now comes the part where you'll maybe understand why I've been doing so much driving each day. Take a quick look at these pictures, and I'll explain:
Exactly 4 years ago this week I picked up a load of TV's at Otay Mesa, the truck border crossing at Tiajuana, bound for Toronto. All the way up I was feeling lousy, in fact had been for awhile. I took it as just running too hard, but could'nt understand the headaches. Little did I know that I had a new "friend" on board.
When I got to that weigh scale, just inside the border, I knew I had a problem. The head pain was crippling me, so because the scale was closed that Sunday morning, I pulled in and parked in that very lane my car is sitting beside. That was the very spot where my life began to come apart.
To this day I don't know how I did it, but I got the load to Toronto, unloaded the next morning, went to a different part of the city, picked up a load of dog food, and took it to Vancouver. With not so much as an aspirin, yet the doctors put me on morphine when the tumor was found.
When they gave me that infamous "6-8 months" prognosis, they in effect washed their hands of me, which caused me needless years of suffering. Well, the hell I was going to lay down. So I fought as hard as I could, learned what I could from the internet, and doc, no thanks to you, look at me now!
Some of you may have thought that for the past 8 days I've been driving like a man on a mission. Well, the fact is I was. I was determined to return to that very spot and close the circle, thereby taking my life back.
I don't have words to describe the feelings I felt when I took those pictures yesterday, but I'm not a damned bit ashamed to admit that my eyes got awfully "sweaty".
On the way up that trip I stopped at Nevada Landing as I always did, and it was important for me to go down there and re-trace my steps. I've just done that, to the mile.
This all ties in with what I said yesterday about sharing. My real family knew what I was doing, and now you, my blog family, do as well.
I'll spend some time "with" Carole today, and then my real vacation will start. Because, baby, I'M BACK!!!
Trucker Bob

blogged at 2:08 AM
|
Friday, June 16, 2006
Morning folks. How better to start the day than truckin' on down the boulevard listening to a little CCR. Turn your speakers up a bit.
The weather, as you can see, was just right for driving. No glare from the sun, temp 69 degrees, and a few tunes. The weather did eventually clear up and actually got up to 96 in the Chicago area, and that's when the axe handle broke.
First this mess about 40 miles west of Chicago, due to a serious accident with fatalities.
Took about 2 hours to get through that, and then it got bad. Believe it or not, I did'nt get out of the #$% construction(?) until I arrived here in Kalamazoo, MI. Every time I got to fussin' and cussin', all I had to do is look at the miles of truckers who were burning up over-priced fuel inching along, and I realized I did'nt have it so bad. I got to come in off the road into a great room at the Best Western, while those poor guys were going to have to haul butt all night long to make up lost time and get their loads in. Been there, done that, and am so thankful I am where I am.
Every morning I stand my clothes up, and the first thing to fall over is what I wear that day. I'm looking over there now and it's like a row of little soldiers standing at attention. Guess it's laundry day. Maybe now people will quit wrinkling their nose when they talk to me.
Now I have a confession to make. I've mentioned, many times, how this computer, and blogging in particular, literally saved my life when I was forced into retirement and made to deal with Timmy. But lately I've been thinking that it was becoming almost an obsession, because the first, and I do mean the FIRST, thing I do when I get up in the morning, or check into a room, is fire up the puter'.
But upon thinking more about it I realize that I do it because I want to, and enjoy it. No one is forcing me. The encouragement I get from you guys makes this, if anything, a healthy obsession, because what would experiences of any kind be if you could'nt share them?
Although I'm basically a loner, I don't know where I'd be without you guys. It would almost be like nobody cared what you did, and that would be truly sad. Sure, my family loves me and cares about me, but you guys are my other family, and that just rounds it out for me.
What the heck brought that on?
This trip is putting a lot of things in perspective for me. There will be lot's of time for play later, but first I had to turn the wheels, because that's when I have always been able to see things clearly. And I like what I see!!!
I'll be crossing the border this morning and will probably get to Cobourg, Ontario today. That is where my sister Carole lived before her recent passing, so I'll be paying my respects in my own way.
Trucker Bob

blogged at 3:07 AM
|
Thursday, June 15, 2006
Morning folks. Before I tell you about the bonehead stunt I pulled yesterday, I've got to tell you about a close call I had in Grand Junction Monday morning. You might want to get a cup of coffee, because this is going to be a rather long post.
Up early as usual, checked out of the motel, loaded the car, and drove across the road to gas up. You did know that gassing up in the cool of the day was best, did'nt you? Anyhoo, got that done, went inside to pay for it, and as I turned to leave realized that I was trapped. I did'nt see it on the way in, but standing between me and the door stood a display case of, gasp, freshly baked KRISPEY KREME donuts! I looked around for another exit, but not finding one, knew that the calorie Gods were punishing me for depriving them of their due during my fitness craze.
Alright bucko, let's see what you're really made of. Walked boldly up to the case, opened the door, and let the aromas waft over me. Almost immediately the feelings of guilt started. The little guy on my right shoulder said "DO IT, and get a six-pack to go". The little guy on my left shoulder said " remember the untold miles of walking, sore legs, sit-ups, lint, weights, more lint, rice cakes, well, don't blow it". Oh, the agony and the ecstacy. Well, you'll be proud of me, I walked out of there a chaste man. And a big ol' WUSS!
Now yesterday. Because I had decided to cut the miles back, before checking out I went to the dining room, had a leisurely breakfast, read the paper, did the crossword, and just dawdled. Finally got back up on I-80, headed east, and was truckin' along like a man in his right mind, when, 48 miles down the road, it hit me. I left the AC power cord for the laptop plugged into the wall. WONDERFUL! Found an exit, crossed over the interstate, and doubled back to retrieve the cord. On the way back every curse word known to man, and a few I invented, were used by me, to me!
Got that done and realized that I had almost a hundred miles on, and had'nt gained an inch. Thankfully the rest of the day went well, with scenes like this:
Don't know what's happening with Blogger, but I've been trying to post a couple of more pictures along the same line without success. Oh well, you get the idea, just a nice pleasant drive down the road. Weather was great, high about 88 degrees, car was running great, hell, I was just doing my thang!
Could'nt find a motel to my liking in Des Moines, so I continued on to Newton, IA, where I am now at the Ramada. After checking in and cleaning up, I went for a walk, had a nice dinner of chicken chimichangas, mexican rice, re-fried beans, shrimp skewer (d'uh) and washed it all down with a cold Corona with lime wedge.
It's a tough task you guys have given me to perform, but I'm bearing up well. Truth is I have'nt been this content for a long time. My life truly was on the road, and I'm so thankful to be able to be back out here under any circumstances.
Not sure about today. I'll get past Chicago, but am thinking of changing course again. Might jump off I-80 just past Gary, Indiana, onto I-94, and stay around Benton Harbor, Michigan, tonight. If I do that I'll take I-69 up to Port Huron, Michigan, tomorrow and cross the Blue Water bridge into Sarnia, Ontario, then continue on to Newfoundland through Canada.
I sincerely hope that each and every one of you get to live your dreams, as I am living mine. When the doctors gave up on me, I did'nt! I goof around a lot, but it was a struggle, yet what in life is'nt? So hang in guys, and just like me, you will in your own way, one day "git on down the road".
P.S. To my little "snubbee"... I will try to wire a dozen long-stemmed up there today, if I can find some black ones. (Oh God, I'll pay for that one!)

Trucker Bob

blogged at 2:06 AM
|
Wednesday, June 14, 2006
Morning folks. Well, my big "liquor up" and side of beef turned into a cold one and a prime rib sandwich with steak fries taken back to my room, but you guys knew that. I've got to start cutting the miles back, because by the time I check in, shower, and have a bite, I'm too pooped to participate. That will all change when I get to the Maritimes.
Here is the dorky video. I was really just trying it to see if the crackly noise was gone, and it seems to be. The road off in the distance I mention is not clear so I'll put a picture of it below. Forbidding country, no?

Ah poop, I've loaded it twice into Photobucket and the tag is still incomplete. Don't understand because I had it up once to preview and it was fine. What was interesting was that as I pulled over and got out of the car I noticed two unsavory characters in a car with no licence plate, slow down and look at me. As I took the video they turned around and came back to where I was parked. Except this time there was only the driver, until I saw the top of the head of the passenger scrunched down in his seat. As the driver was hollering at me I got back into my car and hauled butt.

By now the passenger was sitting upright and off we went. When I passed the century mark (100mph) they gave up trying to stay with me and I never saw them again.
I'm glad it was me out there and not a young lady, perhaps with children, having car trouble. You really have to be aware at all times. I'll keep messing with that blankety-blank video, but since it's out of the camera, I could be hooped.

Maybe this will work:

http://s9.photobucket.com/albums/a59/Tr9754/?action=view&current=MVI_0012AVI.flv

[URL=http://s9.photobucket.com/albums/a59/Tr9754/?action=view¤t=MVI_0012AVI.flv][IMG]http://i9.photobucket.com/albums/a59/Tr9754/th_MVI_0012AVI.jpg[/IMG][/URL]

Time to shower, pack up, check the car over, and hit the road. Think I'll stay in Des Moines, Iowa, tonight. Sorry about the #$% video.



Trucker Bob

blogged at 2:46 AM
|
Tuesday, June 13, 2006
Howdy folks. Well, I did'nt quite make Kearney. By the time I arrived here in North Platte I realized that I had put 499 miles on today, so in off the road, got a room, and here I are.
The drive went well today, even if a little hot. I don't like running the air all the time, but it's sure nice to have. Can't believe all the years I ran in those ol' lunch-bucket trucks with no air, no power steering, and rode like a stagecoach.
I wanted to take some pictures around Vail and the Eisenhower Tunnel, but there was so much road construction I could'nt find a safe place to get off the road. Even with that the drive went well.
Stopped in Fort Morgan, CO, had lunch, gassed up, and back up on the boulevard. Good thing I had enough miles on for today, because by the time I got here I felt a big ol' nap overtaking me.
I tried to put a short post up this morning before I left Grand Junction but the wireless signal was too weak. Tried 3 times and all that happened was timing out. I had a couple of pics and a dorky video that I'll put up before I leave here.
But first, it's Miller Time! I'm staying at a Quality Inn that has all the amenities one would want. You heifers ready for a jacuzzi? How about a dip in the pool? Work-out? (No! not that kind)
They have a Bar and Grill here in the building, so as soon as I get liquored up, seeing as how I'm in Nebraska, I'll tell the waiter to cut the horns off a steer, wipe it's butt, and trot it out, because I'm hungry.
Hope you're all well. See ya later.
Trucker Bob

blogged at 2:49 PM
|
Monday, June 12, 2006
Well, how-dee you-all from Grand Junction, Colorado. WHERE? What the heck are you doing there? Well, if you'd hold your ruddy horses for a minute, I'll endeavor to explain. heh heh heh.
The drive down from Fallon yesterday went well, in fact I stopped at one of my old haunts:
I thought I'd go in and pull a few handles, so I arranged for these fellows to provide an escort in case I hit it big:
They assured me I'd be safe with my roll of nickels, so off I went. But wait! I hit the jackpot after all. I've been trying to find a suitable location to set the Harem up in, and like manna from Heaven, I found this beauty:
Just think, we'll finally be all together in a money-making operation. (Wish I knew how to put the grin on my face on here!)
I did make a video yesterday and will post it later. Anyhoo, kept truckin' along till I got to Vegas. Temperature 102 degrees, and I'm stuck in a 1 hour back-up trying to get from US95 onto I-15 south. Think it's time to make a corporate decision. Do I want to continue on to Phoenix tomorrow for more of the same, or change course? Hmm.
Finally made it here, checked in, played a bit, ate dinner, and called it a day. No Big Dave, I did'nt have shrimp, but I had a bunch of crab legs running for their lives. Most of them did'nt make it!


Thought about it last night and realized that to continue the route I'd contemplated would just get me into heat and humidity that I don't enjoy that much. So up early this morning (d'uh!) and decided to head for the northeast.
Got back up on I-15, headed north through Vegas, continued north through a small part of Arizona, into Utah, on up to I-70E, finished Utah, into Colorado, and was here at 1:30 pm. That's truckin'!
Tomorrow it'll be through Denver, north on I-76 to I-80, and will probably be in Kearney Nebraska tomorrow night. Remember folks, this was the whole idea of the trip, get out and travel the roads I spent so many years on. Doin' my thang!
This is getting too long. I've got lot's of other pics I'll post later, or put on my Flickr page(s)
Guess where I'm going now? Yep, out for a cold one!! Take care, and I'll see ya later.
Trucker Bob

blogged at 2:04 PM
|