Sunday, June 18, 2006
Morning folks. Being Sunday, L'il Bear wanted to pop in and say Hi. Since I only drove 2 hours yesterday he's settled back in to some serious snoozin'.
Arrived here in Cobourg at 9 am local time (6 am my time) and went right to the lake shore (Lake Ontario). Sat down there alone for a while and "talked" to Carole. Walked around for a bit, took a video and some pictures, and decided to stay here for the day. Checked into another Best Western, and believe it or not, had a nap.
Woke up, had lunch, and since I could'nt find anyone to play with, took my "baby" downtown, hand washed and waxed it, including vinyl treatment on the roof, vacuumed, leather treated the seats, picked up some cold ones, and came back to the room. I TOLD you I needed to find a friend!
Had 1 cold one, some boozer I am, and went exploring. Found the house we lived in but since no one was home, and a lot of people seemed to be interested in the stranger, I did'nt take a picture. No biggie, it's just a house.
Parked the car and walked around downtown for an hour or so. In a lot of ways, not much had changed, which I found comforting.
It was actually quite hot and humid here yesterday, so by the time I got that little bit done I picked up some health food, a pizza, came back to the room, hung the "friend needed" sign on the door, and called it a day.
I did get one taker, but he was'nt my type. Oh well, there will be lot's of pier dears down in Newfie-land. Stay where you're at dear, I'll come where you're to.
Here is the video. Excuse the emotion.
This picture of a little 2 year old girl brought home to me that just as one life has ended, another is just beginning. I spoke to the litle one's mother before I took that, and explained what I was doing.
I remember this tree in the park by the lake where I took these.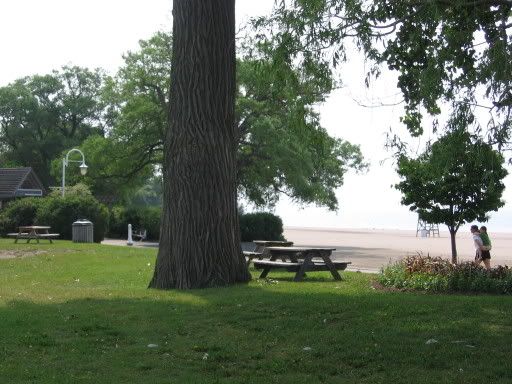 Finally, here is what my "baby" looks like after 3700 miles and a little TLC.
Not sure how far I'll go today, going to just let whatever happens, happen. From here to to the Maritimes does'nt hold much interest for me, especially Quebec, so I might give 'er a lickin'.
Take care of each other folks, because life is fleeting. After yesterday I am so thankful that I seem to have been given another kick at the can.
Trucker Bob

blogged at 2:12 AM
|